In this article reprinted from our friends at Advertising Benchmark Index (ABX), research exposes a surprising disconnect between ABX's proprietary ad rating effectiveness measures and an ad's likability. This past March we ran ABX's analysis of the best and worst Super Bowl ads of 2016.

It is generally assumed that an advertisement's effectiveness can be judged by whether or not people simply like the ad. Unfortunately, as we'll see in the research below, an ad's likability is not always a good predictor of its effectiveness. The result is an advertising industry that produces far too many under-performing ads and wastes millions of dollars in media spend.
Likability is a commonly used measure of advertising effectiveness. ABX, an advertising evaluation service that measures every television, magazine, newspaper, Internet, radio, and out-of-home ad for its clients and their competitive sets, measures likability by asking respondents "Do you like the ad?" and "Would you like to see it again?" Surprisingly, ABX's research has shown that likability is neither predictive of creative effectiveness nor highly correlated with other key metrics.
The results provided in the chart below are from an ABX study of 25,000 measured ads in the ABX archive. They show that:
How much viewers like an ad has little relationship to their association of the advertised brand with the ad.
How much viewers like an ad has little relationship to how well they understand the message being delivered.
Likeability is related to viewers' feelings toward the brand.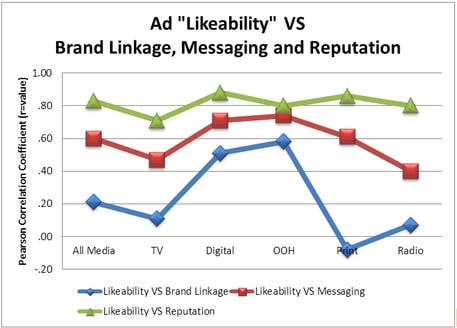 Goo
Each ad was rated by consumer panels on 14 KPIs. Specific results show that:
Likability correlates poorly with Brand Linkage for all media (r=.20).
Likability also has a low correlation with Messaging in all media (r=.60).
Likability correlates well with Reputation (r=.82).
Taken together, these results show that ad likability can be an important measure, but has serious limitations . If viewers love an ad, but have no idea who the advertiser was or what it said, then the advertisement is not doing its job.
Our good friend Will Burns of Ideasicle ranted about likeability vs. effectiveness in his February 22nd Forbes post, "The Data is Depressing: Very Few Super Bowl Spots Were Likable and Effective." He discusses research in which we measured all 61 of the 2016 Super Bowl ads against 14 KPIs. We contrasted Likeability scores, as measured by USA Today's popular AdMeter, against the ABX Index, our overall measure of ad effectiveness. Will summarized the results by quoting ABX President Gary Getto: "Likability was wrong 54% of the time."
In fact, some of the ads that scored poorly on Likability were still effective. (USA Today does not provide a precise definition of likability. We believe it is a simple voting system where readers are asked to rate ads based on, yes, how well they like them.) The chart below provides the results of the research. Click it to see a larger version.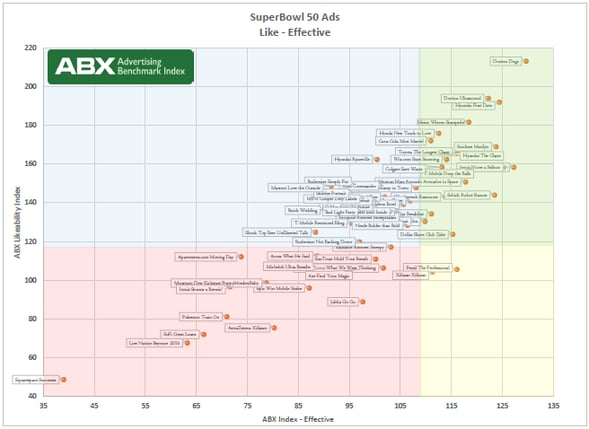 Bottom line: $100 million was "flushed down the toilet" due to ad ineffectiveness for Super Bowl 2016. Ouch. What to do about this?  Two things:
Find advertising pre-test services that don't cost the GDP, and use those results to make adjustments to your creative before it ever goes to market.
Make sure your branding is obvious early in your ad. We all like to think "everyone knows us,"—but they don't.
###
(Thanks to League of Women in Government for part of the image at the top.)
Angela Jeffrey is Vice President Brand Manager for Advertising Benchmark Index. A recognized measurement evangelist, thought leader, writer, and speaker for PR measurement and evaluation, Ms. Jeffrey created PRtrak™, one of the first analysis tools to cover print, broadcast, and internet coverage. Most recently, she served as Strategy Director US for Salience Insight and CARMA. She is also a long-time member of the IPR Measurement Commission. angie@adbenchmark.com
Latest posts by Angela Jeffrey (see all)