In this article ABX Advertising Benchmark Index uses its data to measure the effectiveness of a Microsoft TV spot. ABX is a syndicated creative effectiveness research service that benchmarks all ads in all media for clients and competitors. Results are delivered in 24 hours for better creative and media decision-making.
In early December Microsoft launched a TV spot that has raised the ire of some and the admiration of others. You've seen it: The spot features Microsoft employees caroling about peace as they walk to an Apple store to serenade their competitors. This is a great example of how paid media can be used to deliver more of a public relations message.
The song, "Let There Be Peace," is lovely, and the thought is lovely… but what does this strategic "Bear Hug" actually do for Microsoft?
A "Bear Hug" is one of the stratagems featured in Playmaker Systems' Standard Table of Influence, developed by the brilliant Alan Kelly in his book, The Elements of Influence. (Read articles by Alan Kelly in The Measurement Standard.)
A Bear Hug is defined as, "To agree overtly. The conspicuous support of another player's position or message." In this case, Microsoft hugged Apple, which has always been in the dominant position.
Did Microsoft look stronger for doing so?
See for yourself: Does this ad leave you feeling better about Microsoft, or does it look like Microsoft is using Apple for its own glory?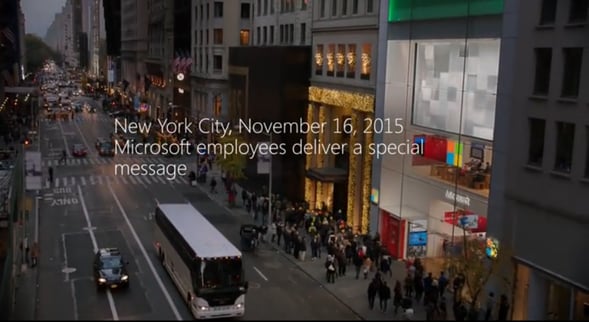 Interestingly, there was far less media coverage on this spot, and its "Bear Hug" strategy, than I would have expected. Most outlets, like Adfreak and Advertising Age, ran a press release or wrote a short piece basically staying neutral about the gesture.
But a few advertising professionals, like Will Burns of Ideasicle and Forbes, didn't buy the hype or the hug for a nanosecond.
"Microsoft doesn't really want peace. They just want to be perceived as wanting peace while they continue to try and outsell Apple. As a result, Microsoft looks more like it's surrendering than appealing for any form of peace," wrote Burns. He then polled his advertising friends on Facebook, and most concurred that the spot was disingenuous and Microsoft lost. See the full Forbes story: "Microsoft Sucker Punches Apple with Love."
But what do less sophisticated, everyday consumers make of this ad?
We ran it through our ABX ad effectiveness survey to find out, with 150 consumers responding. The results were startling: ABX data challenges some of the pundits.

(Note: the ABX Index has an average ad effectiveness score of 100. All ads are benchmarked against norms from more than 100,000 measured ads.)
In this case, the ABX Index at 117 says the ad is "effective" at 17% above average.
The Reputation score at 221 is huge, which means folks definitely felt better about the company after watching the ad.
The Action score, at 15% above average, is also good.
Martin Geraghty, Vice President Research for ABX says:
Ads like these are not really designed to deliver a message. They are more 'feel good' spots which is probably why the reputation score is off the charts. From a messaging perspective, the ad doesn't focus on delivering brand messages about Microsoft or their products. Rather, the focus is on the spirit of the Holiday and people coming together in Harmony. This is reflected also in the Likeability score [not shown, but it is 188]. The ad plays off the Microsoft versus Apple history and background and even 'old friends' (or competitors) can come together at this time of the year. It's more designed to make people connect people emotionally with Microsoft that to drive specific messaging.
At the end of his Forbes piece, Burns wrote, "… I do applaud Microsoft's new marketing team for recognizing the power of emotion in advertising. Could be a new day for Microsoft advertising."
And we at ABX agree. Something good is happening in Microsoft advertising. The chart below shows average ABX scores for Microsoft and Apple in several media types, and Microsoft is leading.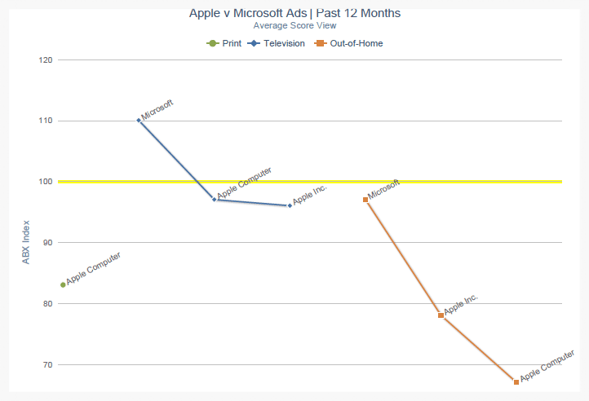 ###
Angela Jeffrey is Vice President Brand Manager for Advertising Benchmark Index. A recognized measurement evangelist, thought leader, writer, and speaker for PR measurement and evaluation, Ms. Jeffrey created PRtrak™, one of the first analysis tools to cover print, broadcast, and internet coverage. Most recently, she served as Strategy Director US for Salience Insight and CARMA. She is also a long-time member of the IPR Measurement Commission. angie@adbenchmark.com
Latest posts by Angela Jeffrey (see all)